WIDE VARIETY OF CARPET & UNDERLAYMENT STAPLES
19 GA & 20 GA DIVERGENT FINE WIRE PAD STAPLES
DIVERGENT POINT
ADVANCED POINT TECHNOLOGY
PREMIUM GRADE STEEL
SUPERIOR STRIP INTEGRITY
SUPERIOR HOLDING POWER
FOR CARPET PAD, CARPET STAIR, TREADS, INSULATION, ROOFING, HOUSE WRAP AND POLY SHEETING APPLICATIONS
COMPATIBLE STAPLE TOOLS (see list below)
GYM / UNDERLAYMENT
7/16" CROWN "N" WIRE
FOR FASTENING SUBFLOOR MATERIALS
IDEAL FOR USE IN MAT CONSTRUCTION
MADE WITH PREMIUM QUALITY STEEL
HEAVY DUTY FOR PROFESSIONAL PERFORMANCE
SIMILAR TO SENCO N-WIRE STAPLES
FITS MOST 7/16" CROWN STAPLE TOOLS (see list below)
LIST OF CARPET & PAD STAPLES
19 GAUGE GALVANIZED FINE WIRE PAD STAPLES
#SKU FINISH TYPE CROWN LENGTH QTY / BOX MASTER PACK
7512D Galvanized Divergent Point 15/32" 3/8" 5,000 20 X 5,000
20 GAUGE GALVANIZED FINE WIRE PAD STAPLES
#SKU FINISH TYPE CROWN LENGTH QTY / BOX MASTER PACK
5010D Galvanized Divergent Point 1/2" 5/16" 5,000 20 X 5,000
5412D Galvanized Divergent Point 3/16" 3/16" 5,000 20 X 5,000
5418D(14MM) Galvanized Divergent Point 3/16" 9/16" 5,000 20 x 5,000
A11/10C Galvanized Chisel Point 13/32" 3/8" 5,000 20 x 5,000
A11/10D Galvanized Divergent Point 13/32" 3/8" 5,000 20 x 5,000

16 GA - 7/16" CROWN "N" WIRE STAPLES - GYM/UNDERLAYMENT
#SKU FINISH SIZE LENGTH COUNT PER BOX
MC1000N13-12 Galvanized N13 1 " 12,000
MC1250N15 Galvanized N15 1 1/4" 10,000
MC1500N17 Galvanized N17 1 1/2" 10,000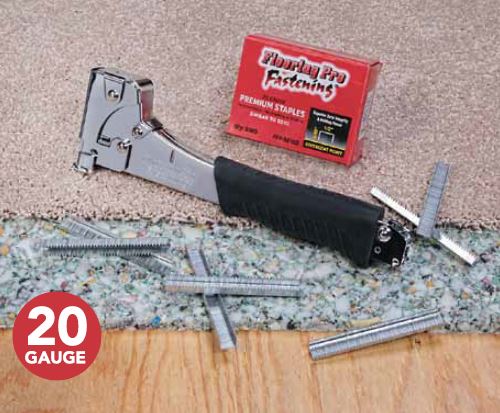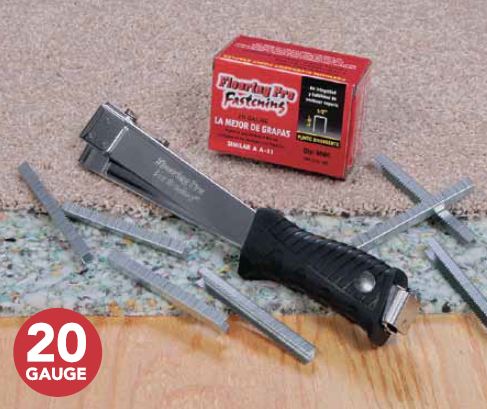 TOOL COMPATIBILITY 19 AND 20 GAUGE GALVANIZED FINE WIRE PAD STAPLES (Listed by SKU)
5010D For use in Hammer Tackers Duo-Fast® 5000 SERIES Older Models: CT-859A, EWC-5018, HT-550, JP-5020, JP-5020 DL,
JS-5020 DL, Flooring Pro Fastening®. 5000 series, HT-550, EWC-5018A, SureShot® 5020, 5020-S, 5020DLAF,
Grex® 50AD, Spotnails® JS5016, JS5016LN & many other 15/32″ crown 20 gauge fine wire staples from 3/8″ to 9/16″.

5418D For use in many ELECTRIC STAPLERS using 5400 series staples: Specifically designed for for use with Carpet Pro®
Duo-Fast®, SureShot®. 5424, Duo-Fast® 5400 SERIES & Older Models: BN-5424S, BND-5424, SP284, ENB-5418A,
ENC-5418A, SP330, ENC-5418A, SP330A, ENC-5418A, SPAC330A.

7512D For use in Hammer Tackers "Slap Stapler": Interchangeable with Duo-Fast® HT-755, HT-755M, and other 7500
Series 15/32" crown 19 gauge staplers.

A11/10C / A11/10D For use in Hammer Tackers: Flooring Pro Fastening® A11-10 HTR, Senco® HA-11, SFT10-H, Duo-Fast® A-11, Rapid® 11, JK671. Fits Arrow® Hammer Tackers & HTX50, HT50, T50 1/4″ type, electric staple gun, CT50K, ETFX50,
ETF50BN, ETN50, HT50 1/4″, T-55, T50PRN, ET50, ETC50; Fasco® F1B A11-16, AUTO, L/M, Grex® A11AD, Prebena® PF,
TOOL COMPATIBILITY 7/16" 16 CROWN "N" WIRE - GYM/ UNDERLAYMENT STAPLES
Hitachi® N5008AA, N5008AB, N5008AC, N5008AC2
Max® TA551 / 16-11, TA511A/ 16-11
Porter-Cable® MS200
Senco® SKS N12-N13, SNS40, SNS44XP, SNS200XP, SNS50XP, M1, M
Sportnail® HL3852, WS4840W2, FS4825, TS4825, TRL3852


And many more 16 gauge 7/16" CROWN staple tools.